December 15, 2016
Holiday cruise menu
The holidays aren't the holidays without lots of good food to share with friends. The holidays also happen to be a great time for boating in South Florida as everyone has more time off to celebrate... and the views from the intracoastal are absoultely magical this time of the year. Take your family and friends on a delightful holiday cruise and follow the menu below to feed everyone nearly stress-free.
The recipes below are all elegant yet simple enough to make or assemble in your boat's galley, and they are all sure to please your guests. All recipes serve 6.
Caprese Bites
1 pint grape or cherry tomatoes, halved
10 to 14 fresh small mozzarella cheese balls, cut into thirds or use ciliegine Fresh Mozzarella
32 (4-inch) wooden skewers or toothpicks
1/4 cup extra virgin olive oil
2 tablespoons balsamic vinegar
1/4 teaspoon kosher salt
1/4 teaspoon pepper
15-16 fresh basil leaves, halved
Thread 1 tomato half, 1 piece of cheese wrapped in basil, and another tomato half onto each skewer. Place skewers in a shallow serving dish. Whisk together oil and next 3 ingredients. Drizzle oil mixture over skewers; sprinkle with salt and pepper to taste.
Recipe from Southern Boating
Sauteed Chestnuts with Rosemary
1lb chestnuts, shelled (How to peel chestnuts)
1/2 stick butter
1 teaspoon coarse sea salt
1 small sprig rosemaryfinely chopped
Melt butter in a saute pan over medium-low heat. Add chestnuts and toss to coat well. Season with salt and saute until dark golden brown on both sides. Sprinkle in the rosemary, remove from heat, let cool. Chestnuts can be stored in an air tight container in the refrigerator for up to 2 weeks.
Recipe from GalleyChef.org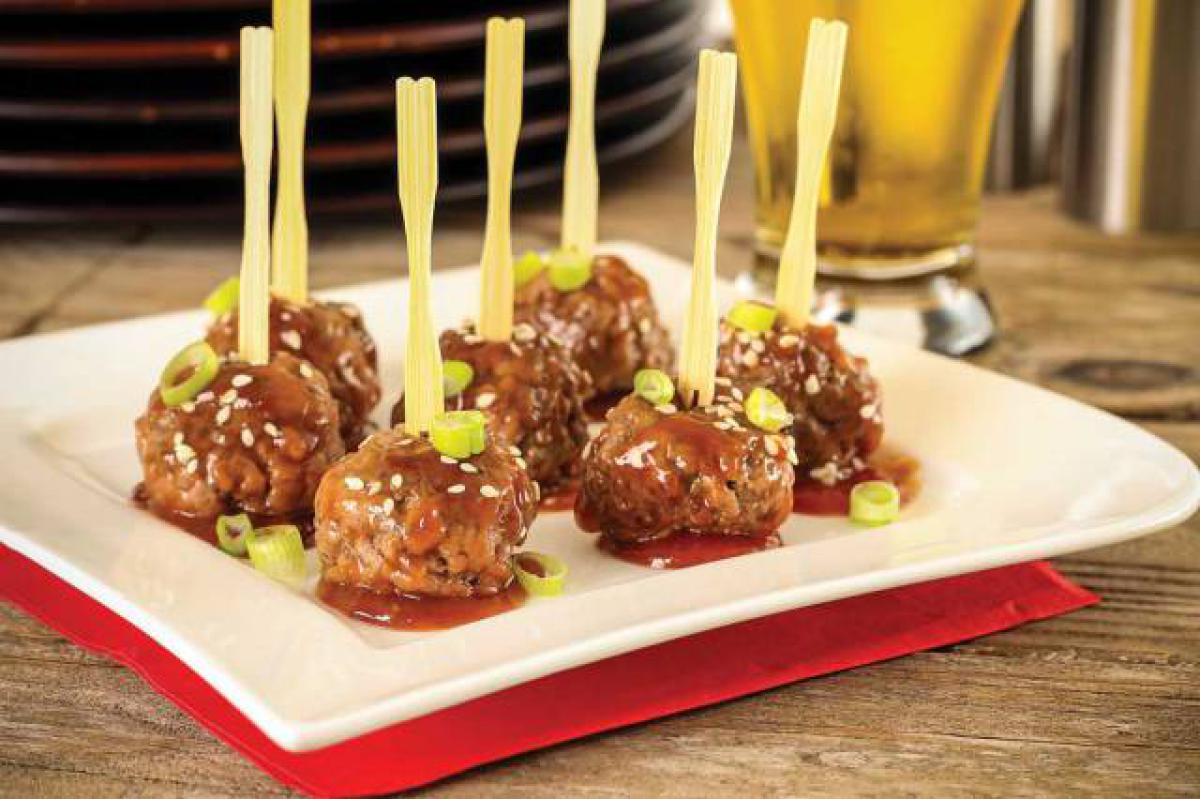 Cocktail Meatballs
¼ cup each, vinegar and hoisin sauce
2 tbsp. each, oil and soy sauce
1 tbsp. honey
2 garlic cloves, chopped (or 1/2 tsp. garlic powder)
1 tsp. minced ginger (optional)
24 prepared frozen cocktail meatballs
Salt and pepper
In a small saucepan, combine the sauce ingredients. Add meatballs and heat on medium-low until meatballs are warmed thoroughly, about 20-30 minutes. Salt and pepper to taste. Serve warm with toothpicks and enjoy.
Recipe from Southern Boating
Winter Solstice Shrimp
24 large shrimp, shelled, tailed and deveined
16 slices bacon cut into 2-3-inch sections
2 tbsp. ground black pepper
Heat broiler or grill. Wrap each shrimp in a section of bacon, sprinkle with pepper and secure with a toothpick (or slide several shrimp on longer skewers). Sauté shrimp in large frypan, or place the shrimp on grill or under broiler until bacon is crisp, about 2 minutes. Serve immediately.
Recipe from Southern Boating. Photo credit: Cookandbemerry.com
Festive Fudge
This one is boating friendly because it has to be made in advance. All you have to do is serve it, and enjoy!
12 ounces cream cheese, softened
1 tablespoon milk
1 teaspoon vanilla extract
1/4 teaspoon table salt
1 pound powdered sugar
1 cup white chocolate morsels
2/3 cup milk chocolate morsels
1 (1-oz.) bottle red liquid food coloring
1 cup toasted chopped walnuts
green sprinkles (optional)
Line an 8-inch square pan with parchment paper, extending over sides; coat with cooking spray.
Beat cream cheese and next 3 ingredients with whisk until creamy. Whisk in powdered sugar, 1 cup at a time. Alternatively, beat at high speed 3 minutes with a mixer.
Melt white chocolate according to package directions; beat into cream cheese mixture. Reserve one-third of cream cheese mixture. Melt milk chocolate according to package directions. Stir milk chocolate and food coloring into remaining two-thirds of cream cheese mixture. Fold in walnuts. Pour into prepared pan; tap pan on the counter to remove air bubbles. Freeze 10 minutes or chill for 90 in fridge.
Spread reserved cream cheese mixture over fudge and dot with sprinkles, if desired; chill 4 to 24 hours. Remove fudge from pan. Cut into rectangles, rinsing and wiping knife clean between each slice. Chill until ready to serve.
Recipe from Southern Boating
Cranberry Ginger Mule
What's a party without a festive cocktail?*
1/2 c. water
6 packets Splenda® Naturals Stevia Sweetener
2 c. vodka
2/3 c. lime juice
2 c. unsweetened cranberry juice (not cocktail)
2 c. ginger beer
In a small saucepan, bring water and SPLENDA® Naturals Stevia Sweetener to a simmer. Simmer for 5 to 10 minutes until sweetener is reduced. Set aside. In a large pitcher, mix together vodka, lime juice, cranberry juice, and sweetener reduction. Top with ginger beer. Serve immediately.
Adapted from Delish.com
*We remind you to please drink responsibly and never drink and drive the boat.
December 15, 2016