Our May 15 Maule Lake Raft-Up celebrates the beginning of a more hopeful summer boating season after more than a year of social distance and isolation.
And while there's great news on the COVID-19 front with case numbers and hospitalizations falling as the percentage of the vaccinated population rises, we're not completely out of the woods – yet.
But if we stay vigilant, together we can stop the spread of COVID-19 and return to normal boating (and life) much more quickly. Toward that end, and toward a fun, happy, and safe raft-up on May 15, we offer the following guidelines:
Limit guests on your boat to those within your "bubble:" family, those who share your household, and those who have been fully vaccinated.


Wear an appropriate face covering while launching your boat, mingling at the dock or boat ramp, provisioning, fueling up, and whenever you're indoors with strangers. While Florida may not have official State guidelines for mask protocol, follow the protocols of the City, County, and businesses you frequent.


Maintain a social distance of at least six feet from people of households different from yours, even outdoors, even if you're wearing facial coverings.


Wash your hands frequently or use hand sanitizer often, especially after touching anything anyone else has touched – fenders, lines, fuel pump handles, holding tank pump-out stations, water faucets, marina gates, trash dump stations, and so forth.


To limit social contact and the need to stop at the store on the way to your boat, pack your provisions in advance. After all, not all stores and restaurants may be open.


Operate with extra caution. After all, if you're involved in a boating-related incident, you're not only exposing yourself and your passengers to the possibility of injury, you're at greater risk of exposure to other, unknown people.


Sanitize your boat thoroughly before and after having guests onboard, with appropriate antibacterial soaps and cleaners.
Enjoy your boat, the sun, the fresh air, and the company of other like-minded boaters -- but be responsible and courteous about it.

And if you're one of our valued customers, and you haven't signed up already, register for our May 15 Raft-Up at Maule Lake, right in front of our Miami showroom. This "mini—Escapade" is our way of celebrating the beginning of the boating season and a hopeful wish for a speedy return to normal.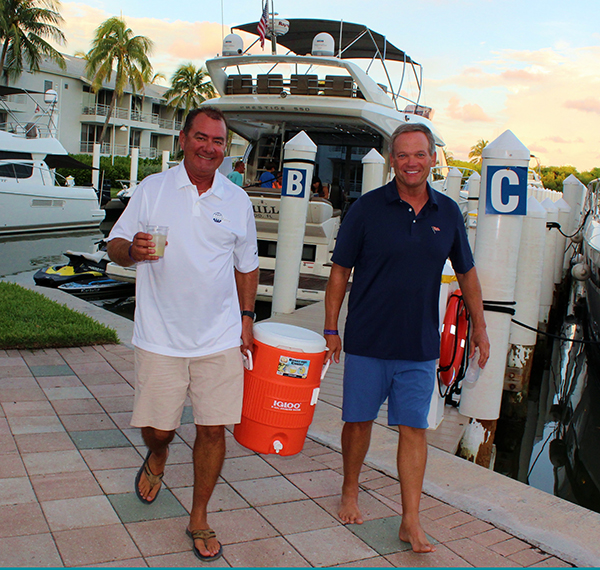 The raft-up will feature DJ Sounds by Mack. And for those of you who've joined us for Escapades past, we'll also feature Rick's famous rum punch.
If you can't make it, we understand. We'll miss you. But be sure to check out our 2021 Escapades calendar here and save the dates for our annual Father's Day Escapade to Bimini in June, and the unforgettable Grand Escapade to the Cannes yachting festival in September.
Again, let us know you're joining us on May 15 at Maule Lake by clicking here. If you'd like information about anchoring overnight, click here.