Summer in South Florida presents the perfect opportunity to take the boat out for the day, drop anchor, and enjoy the clear waters and cooling trade winds we're famous for. Here are our top recommendations for spending a day on the water:
Haulover Sandbar, North Miami -- 25.9028° N, 80.1291° W
Located in North Miami right inside Haulover Cut and just west of the Haulover Beach Marina, this sandbar is exposed at low tide, surrounded by shallows 2-3 feet deep. Known as the "Margaritaville" of the day boating crowd, there's truly something for everybody, with family-friendly activities as well as bikinis-and-beer weekend blowouts. There are even floating "food trucks" that will deliver a meal to your boat by kayak.
Boca Lake, Boca Raton -- 26.3441° N, 80.0744° W
If you're looking for a place along the Intercoastal to anchor and play, Boca Lake is a great choice. Home to annual spring party called the Boca Bash, it's known for huge gatherings of boats, big raft-ups, and anybody looking for an on-the-water party. While the sandbar is knee-deep at low tide, many boaters opt to anchor a bit further offshore toward the north end of the lake, and either swim or kayak in to both protect their boats from inexperienced boaters and to avoid getting locked in as boats continue to gather throughout the day.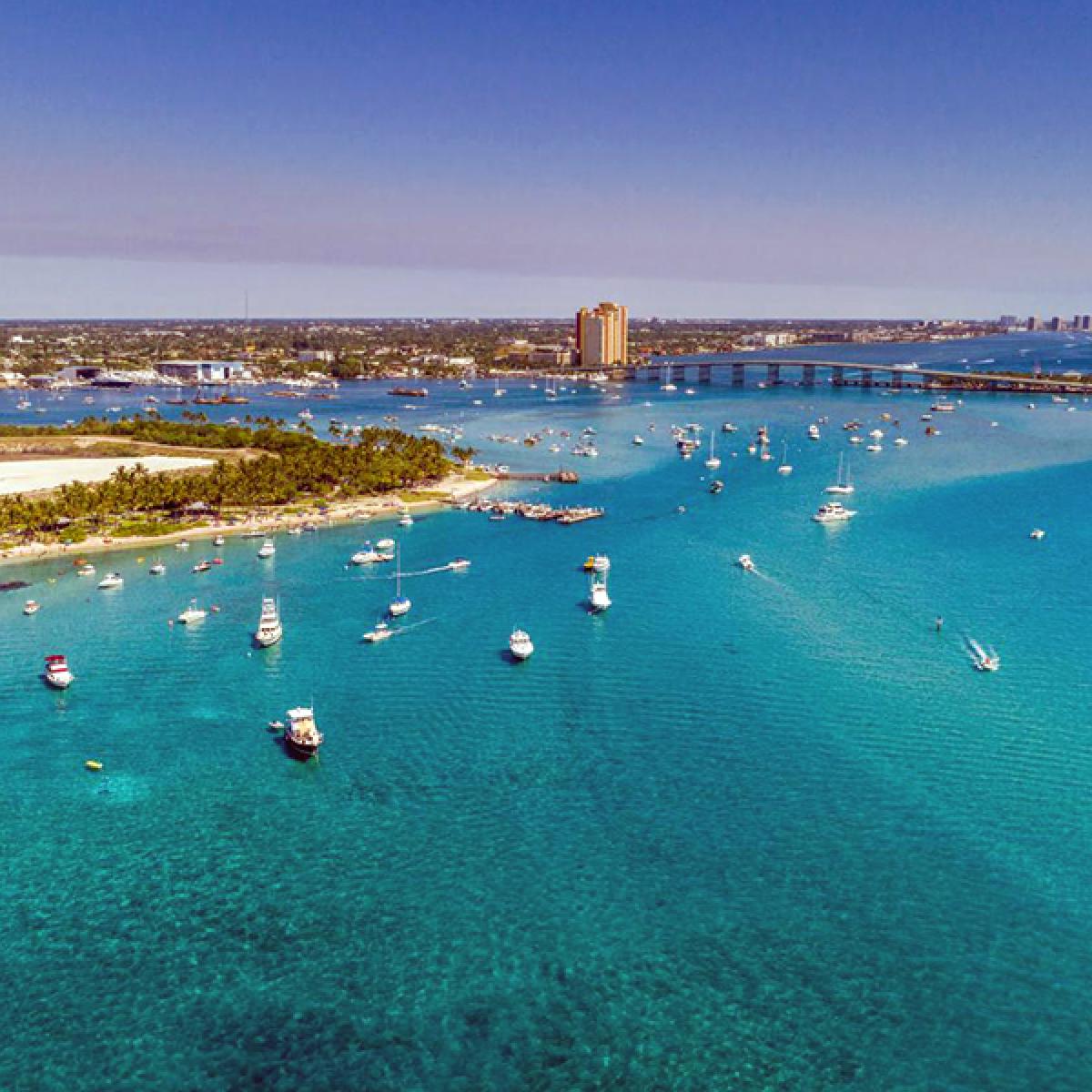 Peanut Island, West Palm Beach -- 26.7733° N, 80.0472° W
Palm Beach County's top boating destination, Peanut Island has everything you could ever want for a great day on the water. You'll find it all here – not only an anchorage, but a dock, sandbar, designated swimming and snorkeling areas, showers, and restrooms. There are also picnic areas and footpaths through the area that lead to a small museum and even a presidential nuclear fallout shelter.
Jupiter Sandbar -- Jupiter 26.948188° N, 80.100117° W
Located at the mouth of the Loxahatchee River where it joins the Intracoastal Waterway, the Jupiter Sandbar has long been a favorite of local boaters. Those in the know plan to arrive about three hours before low tide when the water is only a foot or two deep on the sandbar, and as the tide recedes, it exposes more and more of the sandbar and its fine sand. The west side of the sandbar is great for families, and the east side is where the party crowd gathers. You can find some good snorkeling on the east side near the mangroves, and the water clarity increases as the tide comes in.
Biscayne National Park -- 25.4824° N, 80.2083° W
Within sight of the Miami skyline, this tranquil national park is a wilderness of jewel-colored waters, small mangrove islands, and coral reefs just begging to be explored. The park also provides a unique look into over 10,000 years of Florida history, from the early native people to pirates, rumrunners and shipwrecks. A day in the park offers opportunities for boating, snorkeling, SCUBA diving, or just relaxing on deck to gaze out over the bay. No pass or fee is required for entry into the park. The park's website displays GPS coordinates for dozens of mooring balls scattered throughout the park, offered at no charge on a first-come, first-served basis, and limited to four hours for any one boat.
Boca Chita -- 25° 31' 23.16" N, 80° 10' 28.70" W
The most-visited island in Biscayne National Park is Boca Chita, famous for its historic 65-foot tall lighthouse built in the 1930s by Mark Honeywell. You can tie up at the cleated bulkhead, the only place on the island to dock. From there, you can walk the half-mile trail to the lighthouse and pavilion. The island features camping and picnic grounds, but note that while there are restrooms, there are no sinks, showers, or potable water on the island.
Elliot Key -- 25.4397° N, 80.2001° W
Elliot Key is the largest island in Biscayne National Park, and once was home to a bustling community of pioneers making their living from pineapple farming, sponging, fishing, and salvage, among other pursuits. Now it's a paradise for swimming, picnicking, camping, and wildlife spotting. There are picnic sites with barbecue grills, a designated swimming area near the campground, and a 1-mile loop trail to stretch your legs. 36 dock slips are available, should you prefer to tie up rather than anchor. Cold water showers and fresh drinking water are available.
No Name Harbor, Key Biscayne -- 25.6768° N, 80.1628° W
No Name Harbor, inside Bill Baggs Cape Florida State Park, is a small natural harbor with walking access to one of the best beaches in Miami. There's no charge to anchor unless you stay overnight; and you can tie up during the daytime at the breakwater for a small fee. Enjoy a frosty beverage at the Boater's Grill at the top of the bay after a day of exploring the park and its hiking trails and lighthouse.
Lake Sylvia -- 26.1048° N, 80.1115° W
Lake Sylvia is a hidden gem known mostly to the locals. Tucked away just off the Intracoastal north of Fort Lauderdale and surrounded by a community of exclusive waterfront homes, it's well-protected from the elements and provides a safe, secure anchorage. Since there's no access to shore nearby, you won't find a rowdy party crowd here. It's a perfect spot to drop the hook, take a dip, relax, and enjoy the quiet.
No matter where you spend your day on the water, make sure to bring plenty of water, sunscreen, and shade, and take it easy on the alcohol if you're the designated captain.
And don't hesitate to reach out to us here at Intermarine to answer any questions you have or pick our brains for local knowledge about great Florida cruising destinations. You can call or visit the InterMarine Boat Sales or InterMarine Yacht Group location nearest you.
We're always here to help, and look forward to hearing from you by email, over the phone, or in person at one of our boat and yacht sales locations.
---
Photo credits:
Main photo: Haulover Sandbar, photo uploaded by u/alpacaluva via Reddit
Additional photos courtesy of ThePalmBeaches.com.